Podcast: Play in new window | Download (Duration: 27:38 — 32.1MB) | Embed
Subscribe: Google Podcasts | Email | RSS | More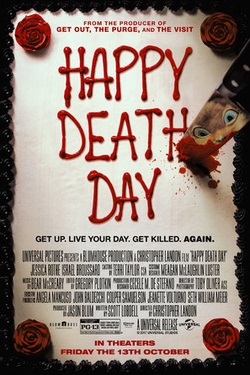 On today's episode of the podcast, Happy Death Day!
It's a mix between Groundhog Day, D.O.A. and Scream, leaning heavily on the former, the Harold Ramis-directed undeniable classic. Is HDD a classic too, that can be mentioned in the same breath? Um, no, but for a Blumhouse production, it's fairly watchable.
On this episode of the podcast, "you load 16 tonnes, what do you get? Another day older and deeper in debt." What do birthdays mean to you?
Putting slasher flicks like this in the context of occasion-based horror flicks like April Fool's Day, New Year's Evil, Halloween, Silent Night, Deadly Night, etc, etc.
Also, where does this fit into the Blumhouse catalogue? What's up with that production studio anyway?
How Christopher Landon sets up red herrings and his aesthetic approach to the story…Jessica Rothe's performance, and much more!
Tune into the Really Awful Movies Podcast and subscribe.