Podcast: Play in new window | Download (Duration: 32:18 — 37.0MB) | Embed
Subscribe: Google Podcasts | Email | RSS | More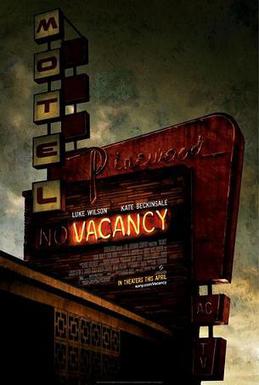 This week on the podcast…check in, and make sure you can check out. Vacancy is a motel horror a la Mountaintop Motel Massacre, Psycho, 13 Cameras, The Rental, No Tell Motel, the Innkeepers…it's a list that's seemingly endless.
What isn't, our fascination with these kinds of films.
It couldn't get more simple: feuding couple (Kate Beckinsale/Luke Wilson) run into car trouble. Unfortunately, Triple AAA isn't around to jumpstart them back to the road and their in-laws. And they're compelled to stay in a crappy fleabag roadside inn. Think of Rodney Dangerfield: "this was a dumpy motel I tell you. They stole MY towels."
Soon, there's banging on the door and something sinister afoot. As well there should be: it's a horror film! Watch Vacancy, and check out this discussion.